Italiano English
Contacts
For information on:
Fragrances

Personalized Perfumes

Gift-Perfumes

Favor-Perfume for Wedding

Gadget-Perfume for Events and Conferences
by phone or by mail to the following contacts:
TEL: +39 3426212378
EMAIL: INFO@BACIMIPIACI.IT
FACEBOOK:
GOOGLE MAPS
View Larger Map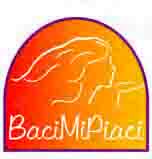 Hai rubato alle stelle
la loro forma, l'alba
ti ha donato il colore roseo
che le &egrave tipico,
hai la leggerezza di un cirro,
la lievit&agrave di un sogno.
Tutto questo racchiudi in te,
meraviglioso fiore.

WWW.BACIMIPIACI.IT
TEL: +39 3426212378
info@bacimipiaci.it
SIAMO SU FACEBOOK!